Old-fashioned quality.
Plus the power of new technology.
We utilize the same state-of-the-art equipment as the largest manufacturers. Yet we put the same meticulous care into the creation of every single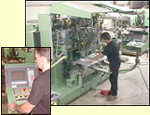 brush - whether we're making one or one million. We'll continue to evolve to best meet customers' needs - and our own high standards.

Get exactly what you need.
With the service you want.

We go to great lengths to make

sure all your requirements are met, on time and to specification. For custom orders, we'll work with you through every step of the way to create the ideal solution. And, we'll do it all the old-fashioned, personalized attention you deserve.


Put your next project in our hands.

The success of you business depends on the

integrity of you suppliers. As our customers, you can be confident you're in good hands. For more information or to speak with us about your needs, call us today. You'll end up getting the best, most reliable brushes available -as well as a good night's sleep.